Happy Ending is a 2014 Indian romantic comedy film directed by Raj Nidimoru and Krishna D.K. The film is produced by Illuminati Films and has an allstar cast including Saif Ali Khan, Ileana D'Cruz and Govinda.
Since my mum has retired the only source of amusement apart from her daytime Indian/Pakistani dramas she insists we make the most of Orange Wednesday codes and watch a movie a week. That's nice 'she get's to see a free movie with her mum awwww.' NO NOT AWWW especially when you have to watch the mediocrity spewed from India.
In the 80's 90's my childhood was blessed with cinematic legends like Sholay, Kalia, Shaan, Bobby, Kuch Kuch Hota hai, Kubhi Kushi Kabhi Gham but now we have Westerneised trash - they aren't even copied properly thought he Indian version of Leon was pretty awesome, instead of the plant you had a scorpion and it was called Bichoo.
Nowadays we have nakedness, inappropriate top less scenes and awful comedy sequences. HOWEVER Happy Ending is not one of them. i had low hopes as my mum said it 'flopped' in Indian cinemas but I gave it a chance becuase of the trailers - there was at least one redeeming song for me to mong out in - Haseena Tu Kamina Mein <3 p="">
3>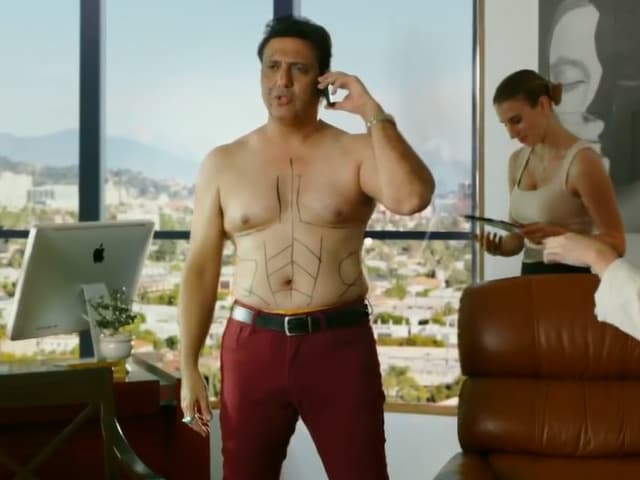 Story
You follow writer Yudi (Saif Ali Khan) who wrote a best selling novel five and a half years ago but he is still living it up off that old fame and not a lot of money in LA. He hasbn't honoured his book deal and has his car repossessed and can't hold down a relationship as he likes casual flings. He parties with married friend Montu (Ranvir Shorey) making us assume he has no long term relationships including friendships. He also zones out and discusses life with his fat, bearded inner voice Yogi (also Saif). Suddenly, he is replaced by romance writer and hack Aanchal (Ileana D'Cruz), visiting from Mumbai.
The only work Yudi now gets is from Bollywood single-screen superstar Armaan (Govinda) who insists he copies Hollywood movies and writes a multiplex-style rom-comedy.- ha ha sounds like my opening paragraphy abou the Indian movie industry. Meanwhile, Yudi's dentist and once-girlfriend Vishakha (Kalki Koechlin) is pursuing him obsessively and he realised he is in love (at last) with his competitor Aanchal.
I have to say as a writer I related to this movie well and enjoyed the comedy as it wasn't too cheesy and liked all the cameo roles including Kareena Kapoor (Saif's real life wife) and Preety Zinta as his female best friend. I'd rate this film as a 7/10 as Govinda always delivers even if his role was small his dancing was great. Rent this online or buy it as it was only in the cinema for a week.